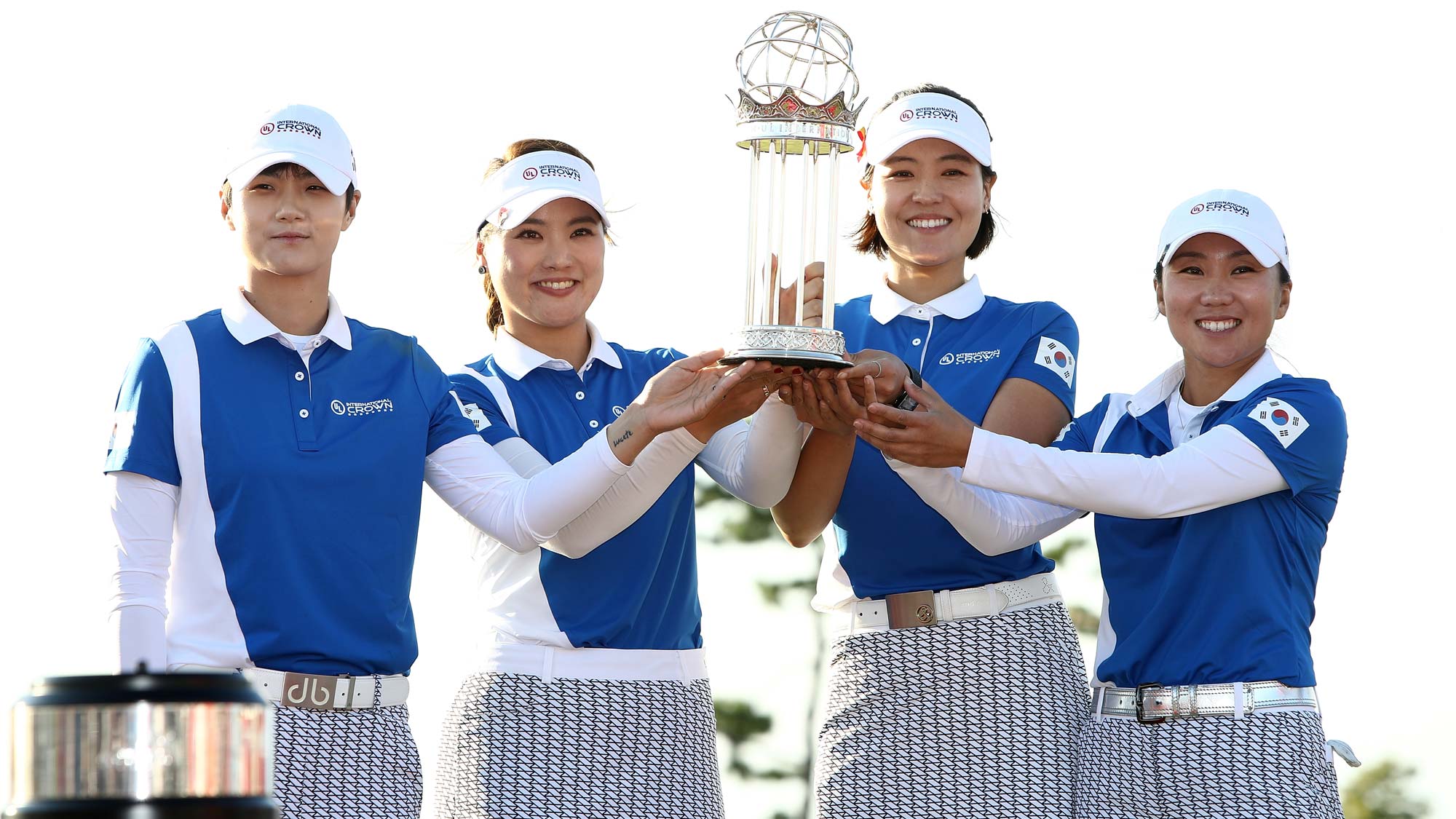 Team Korea Wins Third Edition of the UL International Crown
Team Korea was victorious in winning the 2018 UL International Crown at Jack Nicklaus Golf Club Korea. The team of Sung Hyun Park, In-Kyung Kim, In Gee Chun and So Yeon Ryu rose above the immense pressure they've felt over the months leading up to the competition to win with a total of 15 points, four points ahead of Teams U.S.A and England. Team Korea had previously finished third and second in the 2014 and 2016 editions of the UL International Crown.
"I think that this is perhaps the best win of the season," said Park, a three-time winner in 2018. "I did have a major win, but having won this event, and it's my first time taking part in this event and having my team win, it makes me especially happy, and I just think I'm a very fortunate person."
Team U.S.A. narrowly missed out on defending the Crown, settling for a tie for second with Team England with 11 points. Team Thailand finished with 10 points and Sweden with 9 points.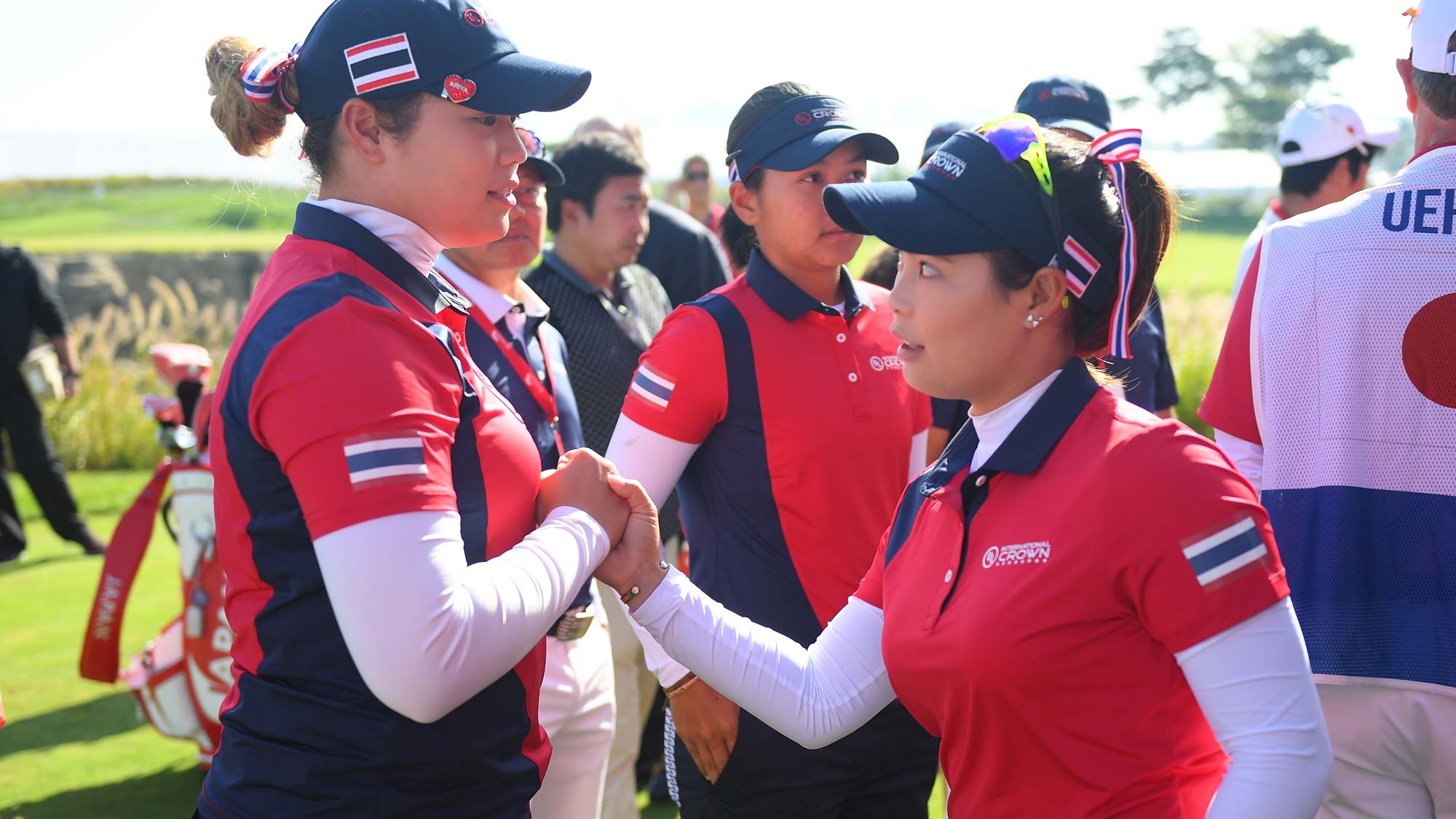 Team Thailand Advances to Singles With Chip-In For Eagle
With the top two teams a lock for the singles matches, the fifth and final spot went to the winner of a sudden death playoff. Two players from Thailand, Australia and Japan were selected to square off at the par 4, 14th hole. Ariya and Moriya Jutanugarn were selected to represent Team Thailand. Moriya hit first and safely found the center of the green at the reachable par 4. Feeling she could now be more aggressive, Ariya went with 2-iron, but came up short of the green. She then proceeded to chip in for eagle to win the playoff and eliminate Teams Australia and Japan.
"I just feel like I can be more aggressive because she hit perfect shot first shot," Ariya said after the playoff. "I feel great."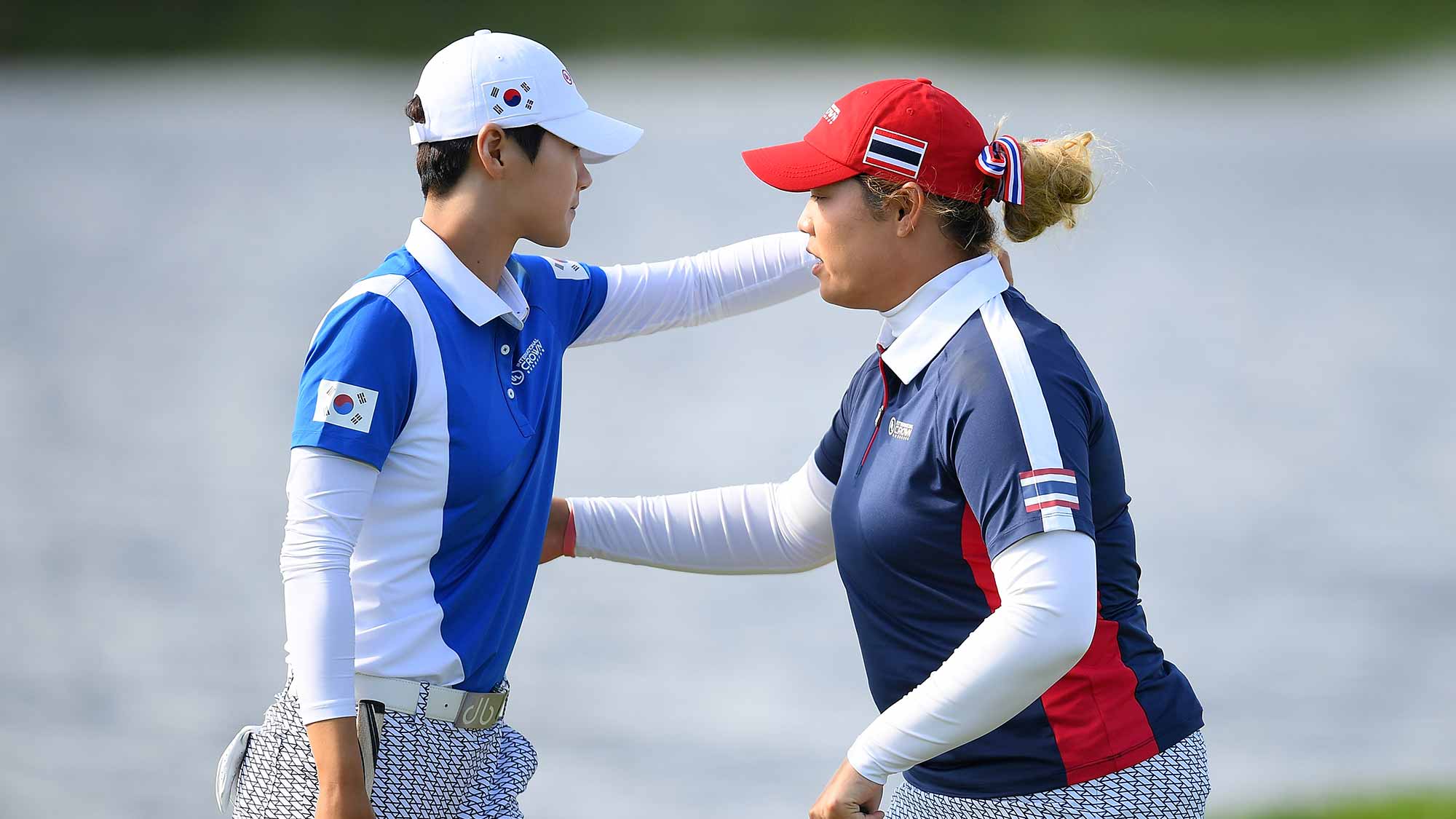 World No. 1 and No. 2 Go Head to Head
Adding another level of intrigue to the singles matches was the match up of Rolex Rankings world No. 1 Sung Hyun Park of Korea and No. 2 Ariya Jutanugarn of Thailand. In addition to both having held the top spot in the world during 2018, they've also jockeyed for position atop the money list, the Race to the CME Globe points race and Rolex Player of the Year standings.
With the two neck and neck all season long, it should come as no surprise the match remained All Square through the first seven holes, until Park won the first hole of the day with a birdie at the par 3, 8th hole. She held on until the par 3, 13th where Jutanugarn made birdie to square the match. The Thai hit the accelerator over the closing stretch making back-to-back birdies at the 15th and 16th holes to take a 2UP lead and win the match 2&1.
"It was really tough for me because I feel like she make everything," Jutanugarn said after the win. "I just start to make some birdie and make me feel more confident. I just feel maybe I can do this."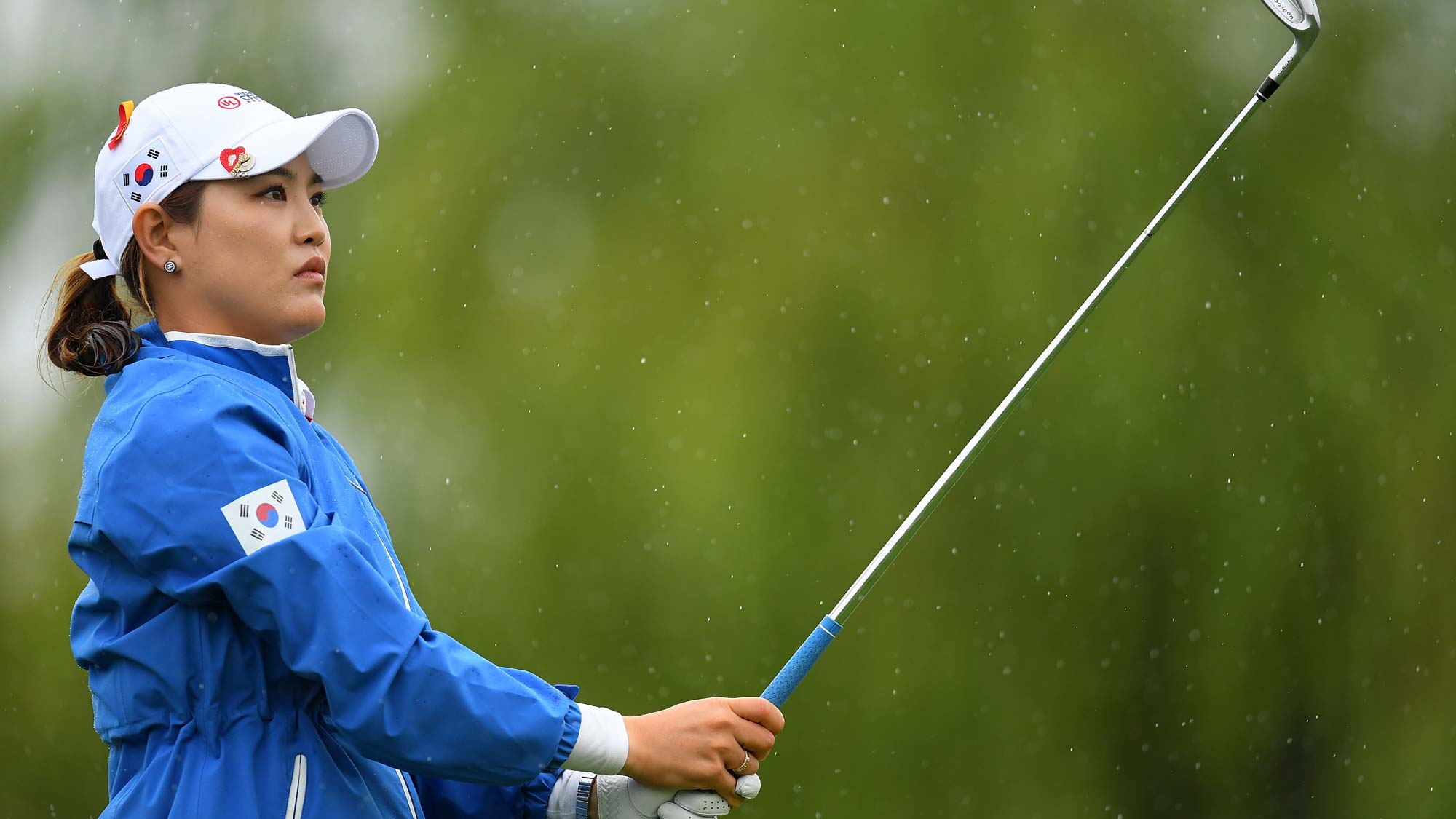 Ryu Becomes Winning-Most Player
Korea's So Yeon Ryu is the winning-most player at the UL International Crown. She started the week with 12 points, which she earned playing in the first two editions of the event. Ryu added to her total last week as the leading point earner for Team Korea with seven points and a record of 3-0-1 for the week. She's now the winning-most player at the UL International Crown with 19 points.
"My sense of responsibility is what really gets me going at this event," Ryu said. "The sense of responsibility that I feel for my fellow teammates and also given the fact that I represent Korea from a pool of very, very talented Korean players. So I have a sense of responsibility that I have to give it my all."
Kerr and Thompson Continue Domination
Team U.S.A's Cristie Kerr and Lexi Thompson, the winning-most duo in the UL International Crown, continued their domination. The duo went undefeated in Korea, improving their record in both the UL International Crown and Solheim Cup to 11-1-2 when paired together. Kerr and Thompson won Thursday's four-ball match 2UP over Sweden's Pernilla Lindberg and Madelene Sagstrom. Friday, they crushed Thailand's Ariya Jutanugarn and Sherman Santiwiwatthanaphong 4&3. Sunday morning when the third session was completed following Tropical Storm Kong-Rey, the pair won the final five holes of the match to win 4UP over Japan's Misuzu Narita and Mamiko Higa.
"I've got one hell of a partner," Kerr said about Thompson. "We ham-and-egged it really well again, and she lifted me up, and I was there kind of when I needed to be, so that's what a good team is."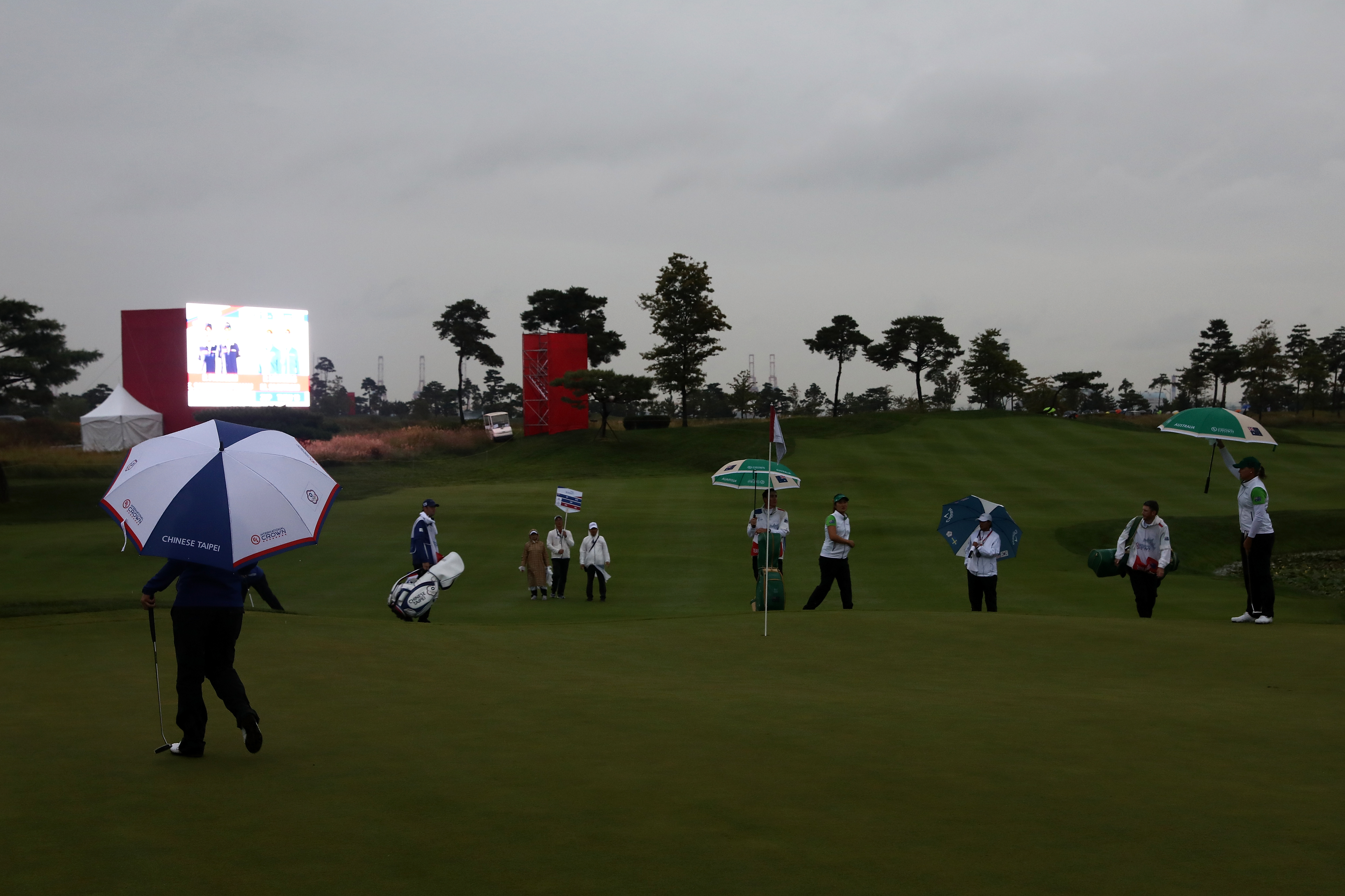 Rain, Rain Go Away
Tropical Storm Kong-Rey rolled through Incheon, Korea on Friday and Saturday. Heavy downpours and rain made for miserable playing conditions on Friday, when players tried to get in as much golf as possible ahead of the storm's worsening forecast for Saturday. The move paid off as no golf was played Saturday. Teams played catch up Sunday morning and were able to not only complete the third session but also all 10 singles matches to finish Sunday afternoon as originally scheduled.